I've only mentioned briefly the hobbies I took up in this blog. This time, I will list some of the projects I finished in the past two years! Every project is a different experience. I haven't made the same thing twice which is why I can't make these hobbies for profit. But I like it better that way—no pressure to disappoint a customer, no deadlines—just pure fun.
Crochet
I've always wanted to start knitting since I've seen it a few times in American shows. However, knitting sounded more foreign to me since I know no knitters, only crocheters. Crochet was also introduced in elementary school, I think, and I've seen a few crochet hooks in my childhood. It was easy to find a starter crochet kit online so I decided I'm going with crochet first.
For most of the projects I'm going to mention in this blog, Youtube was my teacher. My first ones were a simple flower, a granny square, and a coaster. I got hooked quickly and decided to get a crochet hook set and more yarns. This time, I went with milk cotton. It sounded soft and it got good reviews from the crochet community.
I went right in with a bucket hat. It was a good decision to use milk cotton. It might not be the best choice for our climate but it was so easy to work with. It just glides smoothly with my crochet hook, unlike acrylic.
I wasn't happy with the results though, I ended up not wearing it. After doing other projects in between, I decided to frog it and remake it. It was a hard decision, but I'm glad I did it.
After a few projects, I eventually invested in a Tulip crochet hook which I used in this tapestry bag.
I also freehanded a UP Sablay-inspired headband. I made a baby beanie and mittens for a godchild. And, I followed a written pattern for the first time to make a bobble kerchief.
Knitting
After my success with the remade crochet bucket hat, I felt it was time for me to dabble in knitting. Since I already have yarns, I only needed to buy knitting needles and I went with the metal circular ones. I watched RJ Knits on Youtube to learn the basics. It was intimidating at first, especially because I can't imagine how these loops could form a sweater. It was amazing to see those rows pile up and make something.
I also made a knitted top (that didn't fit me well) with a matching crochet tie headband.
My most ambitious knitting project though was this sweater vest. It took me a while to finish it—I would put hours of work in a day and then forget about it for weeks. I think that also caused me to make more mistakes, and then those mistakes would demotivate me, and then the cycle continued. What pushed me to finish it eventually was knowing that it was nearing its anniversary. I also created a Twitter thread of my progress from the start so I also craved tweeting the final product on there.
I also rarely make something as a gift but I had this impulsive decision to knit a headband for Tin before she left for New Zealand. I feel accomplished every time I see someone start a hobby (she learned to crochet) after encouraging them, so I felt like giving her a knitted something to encourage her to try knitting as well.
I have had sets of double-pointed knitting needles for a while now. I wanted to knit socks but just thinking about making the same thing twice demotivates me already. Finally, I thought I wanted to knit a stuffed animal, and the easiest tutorial I could find gave the option to use double-pointed needles.
It only looked intimidating but it felt like a breeze once you get a hold of it. It was definitely easier and more appropriate to use them for small projects instead of circular needles.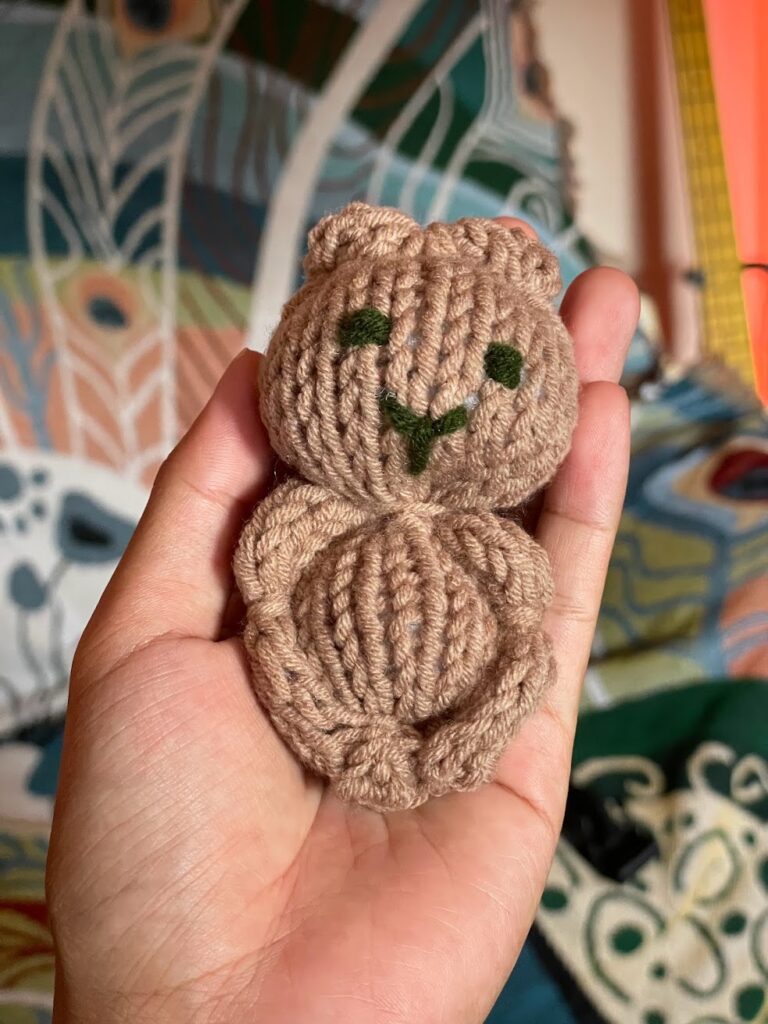 I still have a lot of knitting techniques I want to learn especially colorwork and cables. Maybe next year?
Sewing
When I was a kid, I used to make paper dresses for my Barbie dolls. Back then, my dream was to be a fashion designer. I remember hand-sewing a black apron with broken heart appliques and tulle at the bottom back in elementary. It was so much fun creating it and I was so proud of my work. Being in fashion might not be what I wanted eventually but I still liked dressing up.
Ultimately, my goal is to sew something from scratch which I haven't fulfilled yet. However, I was able to tailor some pants and sew a scrunchie from the scraps. I count this as a win.
Embroidery
One of my goals for the year is to learn a new craft and I was just able to fulfill it in the last month. I got embroidery kits for my birthday last year, so it was really just me waiting for that motivation to kick in. My motivation was to embroider a name on a blanket—my daughter's.